Joe Paduda

Joseph Paduda, the principal of Health Strategy Associates, is a nationally recognized expert in workers' compensation with deep experience in medical and pharmacy services.

In addition to consulting with managed care organizations, employers, health care providers, and insurers, Health Strategy Associates conducts regular surveys on managing work comp pharmacy costs, bill review systems and claims systems.

Mr. Paduda is also the prolific author of the controversial ManagedCareMatters.com blog. He is a founder of HealthWonkReview.com, a collaborative blog on health care policy.

A respected media source, Mr. Paduda has been quoted in the New York Times, Business Week, CFO Magazine, Business Insurance, Risk and Insurance, and many other publications. In addition, he has appeared on Nightline and Fox Business' Business for Breakfast. He has also written a number of articles, which have run in Business Insurance, National Underwriter, Business Finance, and CFO Magazine.

Mr. Paduda is a popular speaker who is particularly adept at converting raw data into valuable, manageable knowledge that organizations can use to develop and refine their medical management programs. In 2011, he was the key note speaker at the National Workers' Compensation and Disability Conference, served as a panelist and speaker for several meetings of the International Association of Industrial Accident Boards (IAIABC) and the American Insurance Association.

Before launching his consulting business in 1997, he held executive positions with major insurers, including Traveler's, United Healthcare and Liberty Mutual. He can be reached at 203-314-2632 or jpaduda@healthstrategyassoc.com.

Mr. Paduda has a Master's of Science Degree in Health Management from the American University. He lives and works in Madison, Connecticut and can be reached at 203-314-2632 or jpaduda@healthstrategyassoc.com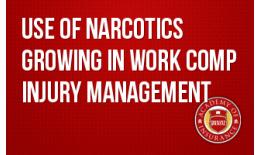 Add to Cart +
Joe will present the results of his Survey of Prescription Drug Management in Workers Comp, with particular focus on the overuse of opioids.
Available On Demand