John Eubank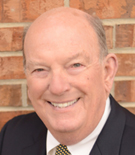 John O. Eubank, CPCU, ARM, is CEO and President of Professional Insurance Education, Inc. He was previously employed by the Insurance Services Office, Inc., as the Regional Operations Manager for its subsidiary Commercial Risk Services, Inc.
Mr. Eubank attended Vanderbilt University and was graduated from Illinois Institute of Technology in Chicago, Illinois with a BS degree in Fire Protection and Safety Engineering.
His professional affiliations have included Regional Vice President of the Society of Chartered Property and Casualty Underwriters (CPCU), PMLG of the Honorable Order of Blue Goose, member of the National Fire Protection Association, and member of the Society of Fire Protection Engineers.
Mr. Eubank serves as a trainer and speaker for various organizations including the Independent Insurance Agents and Brokers of America affiliates. He has also conducted training for the Great American Insurance Co., Hoosier Insurance Co., the Society of Certified Insurance Counselors (CIC), Society of CPCU, The National Association of Insurance Women (NAIW), the North American Retail Dealers Association and the Southern Agents Conference.
Mr. Eubank is recognized as one of the premier insurance educators having served as a National Faculty member of the Society of CIC since 1976, a national faculty member of the IIABA Virtual University, and is the recipient of the Professional Leadership Scroll from the American Institute for Property & Liability Underwriters and the Insurance Institute of America. He has researched, developed, written and published dozens of technical manuals and articles in business and trade periodicals.