Chris Amrhein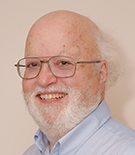 Chris Amrhein, like most true believers in insurance, stumbled upon this business accidentally; specifically, after graduating from college and needing a job.

After beginning in this business as a life-health agent, he graduated to property-casualty sales where he first met the greatest mine of comedy material extant today, the ISO forms. Following several years as a producer and independent agency manager/owner, Chris spent many years as a full-time educator/VP-Education for the Florida Association of Insurance Agents and VP-Education for the Independent Insurance Agents and Brokers of America. Those years found him traveling about the country teaching seminars on everything from agency management to the claims made CGL. It has also taught him the absolute truth of Jimmy Buffet's famous observation about those who make a career of the property-casualty business: "If we weren't all crazy we would go insane."

Chris is now a speaker, consultant, seminar leader and training developer, and resides in Lorton, Virginia, with the love of his life (and wife) Donna and youngest son Alexandru (17). His two older sons - Patrick, 34 and Kevin, 32 – are doing quite well without him. His email address chris@insuranceisfun.com and website www.insuranceisfun.com, say it all.

Current Industry Activities:
Member, CPCU Oversight Committee
Member, Accredited Adviser in Insurance (AAI) Advisory Committee.
Primary Author (AAI textbooks):
Foundations of Insurance Production – Personal Insurance
Multiple-Lines Insurance Production – Commercial Liability Insurance
Agency Operations and Sales Management – Principles of Agency Management
Monthly columnist (1993-present) - "Policy Issues" - Insurance Journal & American Agent & Broker Magazine
Faculty member: IIABA's Virtual University; Society of CIC James K. Ruble Seminars
Developer of "Street Level Ethics" Program for AICPCU/IIA

Past Activities:
Chairman. IIABA Future One Producer Development Task Force
Member, IIABA Future One Subcommittee on Customer Service
Author/Editor - Florida General Lines, Customer Representatives and Adjuster Study Manuals
Member, IIABA Agency Management & Technology Committee