Frank Pennachio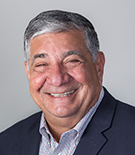 Frank Pennachio is co-founder of Oceanus Partners, a consulting and training firm that works with insurance professionals to improve their sales and new business development. Oceanus Partners was acquired by ReSource Pro in April 2019.
Mr. Pennachio brings over 25 years of agency ownership/management, sales training, and workers' compensation expertise to his topics. His keen industry understanding, empathetic and humorous style, and depth of technical knowledge make him a popular speaker at insurance and workers' compensation conferences.
A highly regarded expert, Mr. Pennachio is a frequent contributor to such publications as American Agent & Broker, PIA, Risk & Insurance, HR Magazine, Insurance Journal, and Occupational Hazards and Risk & Insurance.
Contact him at fpennachio@resourcepro.com