Chris Christian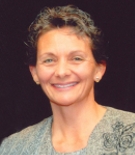 Chris Christian stumbled into insurance in 1985 as a temporary employee at GAF Insurance Services, a bank-affiliated insurance agency in San Diego. After six years with GAF, Chris moved to the carrier side, opening the San Diego branch office of RLI Corp, an underwriter of specialty lines of insurance. The San Diego office was dedicated to Directors and Officers Liability coverage, and was the launching pad for Chris's specialization in professional liability.
Chris left RLI in 1997 to establish her own underwriting facility at London American General Agency and branched out thereafter into professional liability broking.
Chris joined U.S. Risk in November of 2005 and six months later relocated herself, her significant other, and 26 animals to Tennessee, where she continues her pursuit of the art and science of professional liability broking, and contributes to the industry as a frequent speaker, author and association participant.