John Anderson

John Anderson is an accomplished senior insurance executive with extensive experience in operational management, technology integration, and management liability underwriting. During his career his accomplishments have led to leadership positions at the Chubb Group and Zurich North America.

While at Chubb, Mr. Anderson achieved significant success rising to the level of Senior Vice President & Global Specialty Operations Manager. In 2008 Mr. Anderson joined an effort to launch a new business unit within Zurich North America. For his role as Chief Operations Officer, he was responsible for developing, then implementing the operating environment and creating the technology strategy.

Currently, John is a management consultant with IBM working in the insurance practice providing strategy and transformation expertise for many of the largest insurance companies in the US.

As a graduate of Rutgers College with a BA in economics, he has earned a certificate in process management and has taken professionally targeted graduate and undergraduate courses at UCLA, IBM Institute, Rutgers, and the New York Institute of Finance.

John was born in San Juan, Puerto Rico and has spent most of his life in the states; having lived in Vermont, Boston, Hartford, New York, Dallas, and Los Angeles. He lives with his wife, in NJ. They have two sons.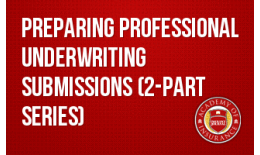 Add to Cart +
Learn how to effectively improve on the information requested in the application and get your submission moved to the top of the pile of submissions on the underwriter's desk.
Available On Demand