Ron Fry

Ron Fry joined Sherman & Company in January 2010, bringing twelve years of insurance investment banking experience to the firm. Mr. Fry's responsibilities include sourcing and supporting banking transactions, and building relationships with clients operating in the property & casualty, life/health, and reinsurance sectors.

Before joining Sherman & Company, Ron was most recently a Vice President with Wachovia Securities LLC in the Financial Institutions Group. In that role he managed the risk of a multi-billion dollar portfolio of insurance and financial services companies and underwrote financings that included acquisitions, bridge loans, revolving and term credits, and insurance letter of credit facilities. His prior roles at Wachovia Securities and its predecessor, First Union Securities, included various roles covering financial institutions in Corporate Banking, Structuring & Underwriting and Risk Management, as well as the Agency Management division of Loan Syndications. Throughout his career he has primarily focused on insurance carriers and insurance distributors while working with a broad array of financial institutions clients.

Mr. Fry earned a B.A. in Business Administration from Belmont Abbey College and a M.B.A. at Wake Forest University's Babcock Graduate School of Management. Prior to his undergraduate work Mr. Fry served in the US Army and continued to serve in the Army National Guard, including a 2004 deployment to Iraq, until his retirement from the military in 2006.

Contact Info:
(704) 943-2672
RFry@Sherman-Company.com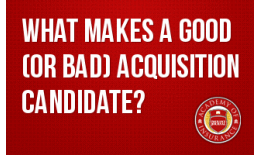 Add to Cart +
Do you know how to spot the attractive or unattractive characteristics in acquisition candidates?
Available On Demand