Insurance Training Course Catalog
Add to Cart +
Inland marine insurance is a unique line of coverage in that it addresses disparate "classes" of risk, most of them quite different from each other.
This session will review the origins and evolution of inland marine coverage, then describe how it has become one of the most consistently profitable lines of insurance for producers and carriers willing to invest in the expertise required to effectively write coverage and implement loss control in the various classes.
Join us as Joe Harrington helps us to understand one of those lines of business that we deal with, but we don't always get it.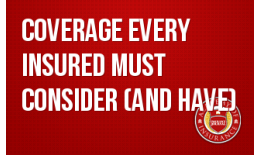 Add to Cart +
Agents and brokers are faced with the daunting task of identifying the insurance needs of their clients, finding the proper coverages while being mindful of the final cost of the products and policies they offer. It does little good to save a business 20% on their insurance program if exposures are overlooked and uncovered losses occur.