Insurance Training Course Catalog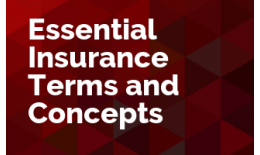 Regular Price: $129.00
Special Price: $99.00
Add to Cart +
Why is it called property and casualty insurance when you buy a property policy and a liability policy?
What is reinsurance?
What do you mean they had the wrong class code?
Audit? What is this? The IRS?
The insurance vocabulary is as full of gobbledegook as any other industry is. We believe that insurance professionals fall into two categories: the ones that think everyone understands them, and the others that pretend to understand their peers.
That's what this session is about. We plan to cover the most essential insurance terms and concepts that you will need to understand so that you can carry on conversations.
Attend Live March 19, 2020