Insurance Training Course Catalog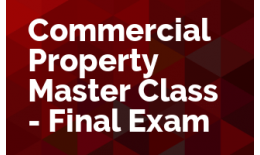 Add to Cart +
Finish the Commercial Property Master Class!
Did you attend all eight classes?
Are you ready to make it official?
The final exam consists of 40 multiple choice questions that span over all eight classes.
You need to answer 28 questions correctly (70%) to pass this exam.
Once you complete your exam, please allow 3-4 days for us to grade it and get your results to you.
Available On Demand