Insurance Training Course Catalog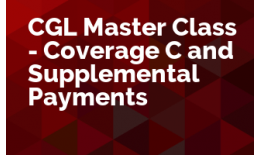 Add to Cart +
What happens when the injury is small enough that $5,000 or $10,000 would pay for the injured person's bill? Do they really have to file a suit against the insured to get that money? That's where coverage C comes into play. This medical payments coverage makes it possible to handle small claims without a lot of issues. When we've handled medical payments, we will examine a part of the policy that provides for money outside of the liability limits to handle other things, like defense.
Join us in session number six in our CGL Master Class.
Attend Live September 15, 2022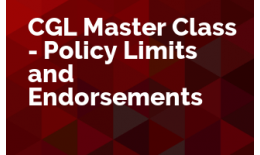 Add to Cart +
In this final session of our CGL Master Class, we will look at how the limits on the CGL policy get used. It may seem straightforward, but when you consider that there are six limits and a loss might touch three of them at once, it begins to get a little complicated. After that, we'll deal with several endorsements that you need to be introduced to because one of your clients might come to you with them on their policy. You need to know how they change the policy and if you need to try and get the endorsement removed.
Attend Live October 20, 2022