Insurance Training Course Catalog
Add to Cart +
The pollution exclusion on the ISO CGL coverage form is complicated. Pollution is excluded, except when it isn't and sometimes when you think it might be, it might not be excluded. Then again, there are endorsements available that can clear it all up, like the total pollution exclusion, and others. Join us as Academy Director of Education, Patrick Wraight brings his take on this complicated exclusion.
Attend Live October 31, 2023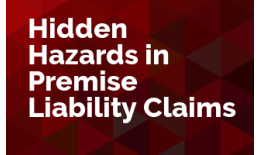 Add to Cart +
Slip or trip and fall accidents are one of the most common exposures faced by commercial property owners. While these claims appear simple, they may include complicated issues related to risk transfers in commercial contracts. The claims may also require specialized technical experts to weigh in on the safety of a premise condition. Join Crystal Uebelher in this webinar to explore common issues arising in the management of premise liability claims.
Attend Live November 16, 2023