Insurance Training Course Catalog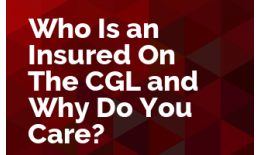 Add to Cart +
UPDATE: Due to the situation with COVID-19, we chose to move this webinar to make space for a session dedictated to COVID-19.
Is the new employee that decided to take a swing at a customer an insured on the company's CGL policy?
Is there coverage if an employee takes action to protect property and injures someone in the process?
Join us as we explore who is an insured on a CGL policy.
Attend Live July 9, 2020