Kathy Ryan

Kathy Ryan, SPHR, is an award-winning author and owner of Pinnacle Coaching Group, LLC. Over the last 30 years, Kathy has influenced thousands of people in the business and non-profit sectors through her coaching, consulting, speaking and on-site training. Her expertise covers a wide range of subjects including leadership, communication, human resources management, team dynamics, and performance management.
Kathy earned her B.A. degree in psychology and history from Dickinson College in Carlisle, Pennsylvania and has been awarded a lifetime certification as a Senior Professional in Human Resources (SPHR) from the Society for Human Resources Management. She has experience working with diverse industries including insurance, hospitality and entertainment. She is certified in the use of the Myer-Briggs Type Assessment (MBTI), as well as a number of other assessments and tools to support development.
Kathy is author of the book, "You Have to Say the Words" An Integrity-Based Approach for Tackling Tough Conversations and Maximizing Performance, which won a Royal Palm Literary Award from the Florida Writers Association. Her interactive training program based on the book has helped thousands of managers to improve their coaching skills and drive performance. Her articles on leadership and other personal development topics have been published in numerous magazines including the Insurance Journal. You can follow Kathy's blog, Inspired Leadership, at www.CoachKathyRyan.com .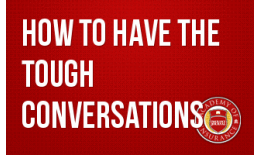 Add to Cart +
The ability to effectively prepare for and conduct a productive counseling session is an essential skill in today's workplace. Learn how to conducting the "difficult conversations."
Available On Demand